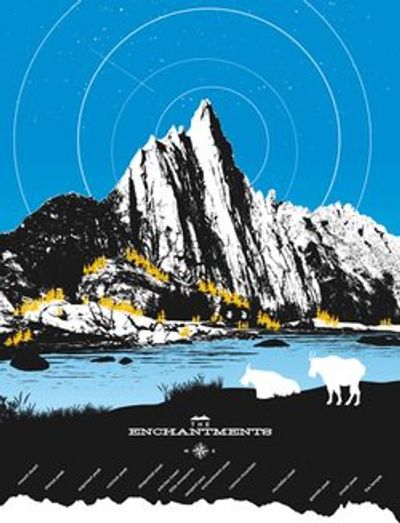 The Enchantments Art Print l Powerslide
SKU: POWEN

The Enchantments, while majestically beautiful, are not for the faint of heart.

As the WTA said "Nature has carved one of the magnificent places of this world - an alpine paradise of granite worn smooth by flaciers, larches manicured by wind and cold, and crystal blue lakes strung together by a creek that tumbles and thunders between them. Seemingly everywhere, herds of mountain goats calmly wander by."

Ah, poetry to our ears.. I mean our eyes?

This screen print of the Enchantments done by local artist Mike Klay at Powerslide Design is truly one of a kind.

Printed on Cougar 100lb White Cover paper and is an ideal size for framing!