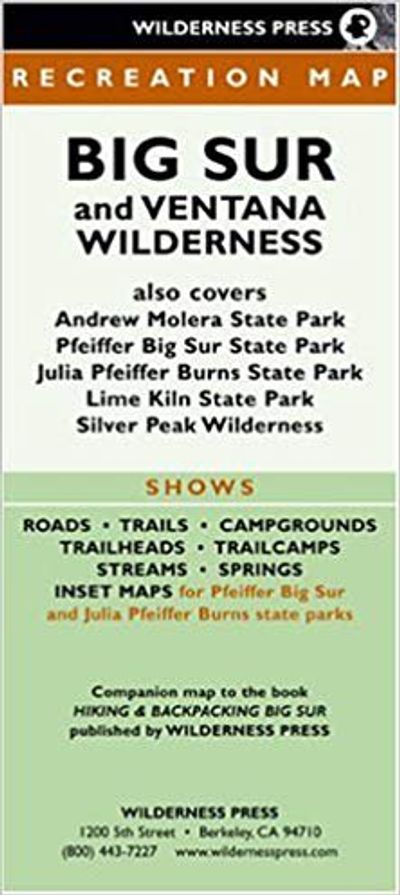 Big Sur & Ventana Wilderness Map
SKU: WILBIGSUR
Topographic map of Big Sur & Ventana Wilderness showing every major road, trailheads and trails in Pfeiffer Big Sur State Park, Julia Pfeiffer Burns State Park, Ventana Wilderness, Silver Peak Wilderness, Andrew Molera State Park, Lime Kiln State Park, and northern Los Padres National Forest.

Notes campgrounds and trail camps, and has 80 foot contour lines.
Waterproof & tear resistant.
Price each
Photo
Description
SKU
Units
Price
Qty
25" x 40"|1:64,653
WILBIGSUR

Add to cart

You Might Also Like:

Photo
Description
SKU
Units
Price
Qty

Los Padres National Forest West Map - CA




26" x 38"|1:80,000

TRA813

Add to cart

Hiking Maps of California l Tom Harrison




Angeles High Country|1:63,360

HARANGELES

Add to cart

Hiking Maps of California l Tom Harrison




Ansel Adams Wilderness|1:79,200

HARANSEL

Add to cart

Hiking Maps of California l Tom Harrison




Bishop Pass|1:47,520

HARBISHOP

Add to cart

Hiking Maps of California l Tom Harrison




Death Valley National Park|1:250,000

HARDEATH

Add to cart

Hiking Maps of California l Tom Harrison




Desolation Wilderness|1:42,240

HARDESOLATION

Add to cart

Hiking Maps of California l Tom Harrison




Devils Postpile|1:39,600

HARDEVILS

Add to cart

Hiking Maps of California l Tom Harrison




Dinkey Lakes Wilderness|1:42,240

HARDINKEY

Add to cart

Hiking Maps of California l Tom Harrison




Emigrant Wilderness|1:63,360

HAREMIGRANT

Add to cart

Hiking Maps of California l Tom Harrison




Golden Trout Wilderness|1:63,360

HARGOLDEN

Add to cart

Hiking Maps of California l Tom Harrison




Half Dome|1:31,680

HARHALFDO

Add to cart

Hiking Maps of California l Tom Harrison




Hetch Hetchy|1:63,360

HARHETCH

Add to cart

Hiking Maps of California l Tom Harrison




Hoover Wilderness|1:63,360

HARHOOVER

Add to cart

Hiking Maps of California l Tom Harrison




John Muir Trail|1:63,360

HARJOHNMUIR

Add to cart

Hiking Maps of California l Tom Harrison




Joshua Tree National Park|1:125,000

HARJOSHUA

Add to cart

Hiking Maps of California l Tom Harrison




Kearsarge Pass|1:42,240

HARKEARSARGE

Add to cart

Hiking Maps of California l Tom Harrison




King Canyon High Country|1:63,360

HARKINGSHIGH

Add to cart

Hiking Maps of California l Tom Harrison




Malibu Creek State Park|1:31,680

HARMAL

Add to cart

Hiking Maps of California l Tom Harrison




Mammoth High Country|1:63,360

HARMAMMOTH

Add to cart

Hiking Maps of California l Tom Harrison




Mineral King|1:63,360

HARMINERAL

Add to cart

Hiking Maps of California l Tom Harrison




Mojave National Preserve|1:190,000

HARMOJAVE

Add to cart

Hiking Maps of California l Tom Harrison




Mono Divide High Country|1:63,360

HARMONO

Add to cart

Hiking Maps of California l Tom Harrison




Mono Lake|1:63,360

HARMONOLAKE

Add to cart

Hiking Maps of California l Tom Harrison




Mt. Shasta Wilderness|1:63,360

HARMTSHASTA

Add to cart

Hiking Maps of California l Tom Harrison




Mt. Tam|1:24,000

HARMTTAM

Add to cart

Hiking Maps of California l Tom Harrison




Point Mugu State Park|1:31,680

HARMUGU

Add to cart

Hiking Maps of California l Tom Harrison




The Palisades|1:31,680

HARPALISADES

Add to cart

Hiking Maps of California l Tom Harrison




Pinnacles National Monument|1:24,000

HARPINNACLES

Add to cart

Hiking Maps of California l Tom Harrison




Pt. Reyes National Seashore|1:48,000

HARPTREYES

Add to cart

Hiking Maps of California l Tom Harrison




San Gorgonio Wilderness|1:47,520

HARSANGOR

Add to cart

Hiking Maps of California l Tom Harrison




San Diego, Anza Borrego|1:125,000

HARSDANZA

Add to cart

Hiking Maps of California l Tom Harrison




Sequoia & Kings Canyon National Park|1:125,000

HARSEQUOIA

Add to cart

Hiking Maps of California l Tom Harrison




Sierra National Forest|1:158,400

HARSIERRANF

Add to cart

Hiking Maps of California l Tom Harrison




Lake Tahoe|1:71,280

HARTAHOE

Add to cart

Hiking Maps of California l Tom Harrison




Tuolumne Meadows|1:42,240

HARTUOLUMNE

Add to cart

Hiking Maps of California l Tom Harrison




Mt. Whitney High Country|1:63,360

HARWHITNEYHIGH

Add to cart

Hiking Maps of California l Tom Harrison




Mt. Whitney Zone|1:31,680

HARWHITNEYZONE

Add to cart

Hiking Maps of California l Tom Harrison




Yosemite National Park|1:125,000

HARYOS

Add to cart

Hiking Maps of California l Tom Harrison




Yosemite High Country|1:63,360

HARYOSHIGH

Add to cart

Hiking Maps of California l Tom Harrison




Yosemite Valley|1:24,000

HARYOSVALLEY

Add to cart

California Atlas & Gazetteer by DeLorme




11" x 15 1/2"

DELCA

Add to cart

Big Sur & Ventana Wilderness Map - CA




26" x 38"|1:80,000

TRA814a

Add to cart

California's Lost Coast Map




24" x 36"|1" = 1 mile

WILLOST

Add to cart