Washington State Regional Raised Relief Maps

The largest scale raised relief maps are at a scale of 1:250,000, which equates to four miles per inch.
We carry all of the available maps at this scale that cover most portions Washington.
Since these raised relief maps of Washington are all done at the same scale, adjacent titles can be pieced together for a larger wall display if desired.
Each raised relief map measures 21" x 27", and has a generous border on all four sides.
The map below shows the location of each title in relation to each other.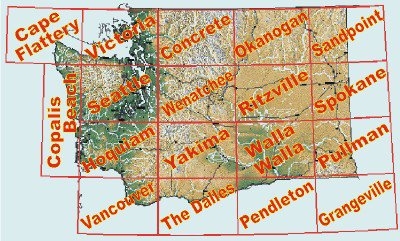 ***Cape Flattery, Okanogan, Ritzville, The Dalles,Vancouver, Victoria, and Walla Walla coverage are out of production***

** Raised Relief Maps are printed on vinyl and are not intended to roll and/or fold. We ship them in a flat box and pack them with love (i.e. Plenty of bubble wrap!) **

** PLEASE NOTE: When mailing items to the Aloha State of Hawaii and the Last Frontier of Alaska, additional fees may be required for shipment. **