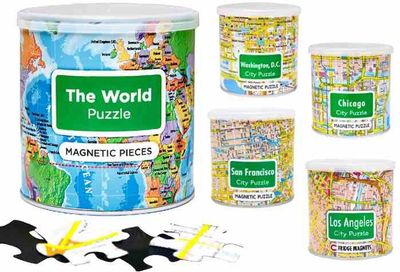 Magnetic Map Puzzles
SKU: GETCITYPUZZLE

Waiting for that roast to cook in the oven?
Listening for the magical ding from the microwave?
Whatever you maybe waiting for, these magnetic map puzzles will definitely keep you entertained.
Why stop at refrigerators? These are great on lockers, desks and .. well any metal surface you've got in our opinion!

The Puzzle once completed measures 13.4" x 9.3" inches and is 100 pieces.

Price each
Photo
Description
SKU
Units
Price
Qty
Chicago
GETCITYPUZCHI

Add to cart

Los Angeles
GETCITYPUZLAN

Add to cart

London
GETCITYPUZLON

Add to cart

New York City
GETCITYPUZNYC

Add to cart

Paris
GETCITYPUZPAR

Add to cart

Portland
GETCITYPUZPOR

Add to cart

Seattle
GETCITYPUZSEA

Add to cart

San Francisco
GETCITYPUZSFR

Add to cart

The World
GETCITYPUZZLEWORLD

Add to cart

United States
GETPUZZLEUS

Add to cart

Solar System
GETSOLARPUZ

Add to cart

You Might Also Like:

Photo
Description
SKU
Units
Price
Qty

World Map Jigsaw Puzzle by Hema




36" x 24"

RWPWZMIPUZ

Add to cart

Flag Frenzy Card Game




Flag Frenzy Card Game

GETFLAGFRENZY

Add to cart