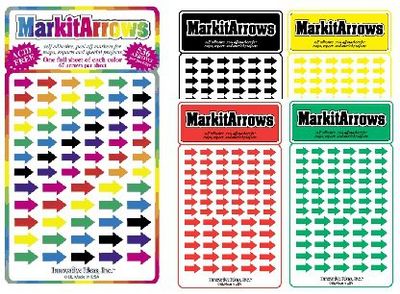 Map Sticker Arrows
SKU: INN148
Map sticker arrows come in single color packages or a package with an assortment of 8 colors. These work great on laminated maps to draw attention to specific locations on the map.

2 sizes of map sticker arrows in each package: approximately 1/2"x 3/8" (larger size) and 7/16"x 1/4" (smaller size). The single color package contains 50 of the larger size and 84 of the smaller size for a total of 134 arrows. Acid free.

Single colored sticker arrows: 134 stickers per pack - 2 sheets of that color.
Multi colored sticker arrows: 536 stickers per package - 1 sheet of each color.

If your order is less than $20.00, we will mail the stickers instead of sending them UPS and adjust the shipping amount down.