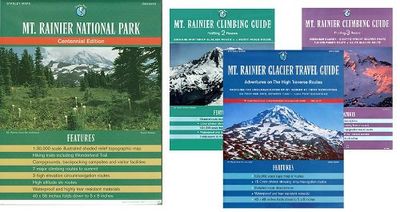 Mt Rainier Climbing Route Park Maps l Stanley Maps
SKU: STAMTRF

Stanley Freidman loved maps and he loved Mt Rainier. With his passion he created one of the most detailed and attractive topographical maps for Mount Rainier National Park.

The Park Map features 1:30,000 scale topography with shaded relief, hiking trail information, campgrounds / campsites for many trails including the Wonderland Trail. Also shown are 7 major climbing routes to the summit, and 3 high elevation circumnavigation routes. This map unfolds to 40" x 56" inches.

The Climbing Guide for Route 2 shows the Emmons-Winthrop glacier route and the Liberty Ridge Route. The Climbing Guide for Route 3 shows the Kautz Glacier Route, the Fuhrer Finger Route, and the Ingraham Glacier- Disappointment Cleaver Route. Color photos are incorporated to show the lines of ascent.
The Mt Rainier Glacier Travel Guideshows adventures on the High Traverse Routes profiling the circumnavigation of the mountain between elevations 7,000 and 11,000 feet. This map unfolds to 40" x 48" inches.