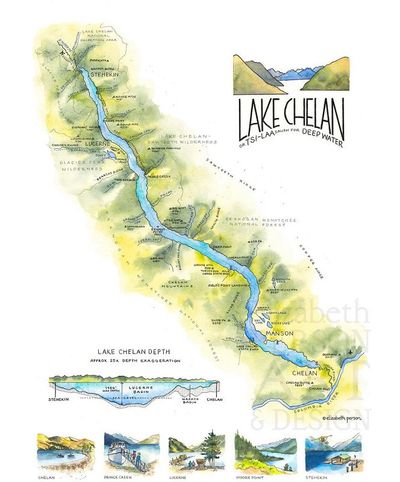 Lake Chelan Watercolor Print l Elizabeth Person
SKU: EPALC

Elizabeth Person is a local artist here in Washington and we are always anxiously awaiting whatever new prints she comes up with.

This new Lake Chelan - or in Salish Tsi-Laa meaning Deep Water (very fitting name!) - Watercolor Map Print is no exception. Featuring an aerial map of the lake, a diagram of it's unusual depth and five vignettes of different destinations along the lake, this map is sure to fancy up any wall!

Known for it's beaches and backpacking / hiking trails, Lake Chelan is a summer destination for us Washingtonians. We tend to flock there for a nice escape.

The original print was created used waterproof ink and watercolor paints.

Printed on archival, high-quality matte paper. Available in multiple sizes perfect for framing.

Note: The watermark will not be included on the print.