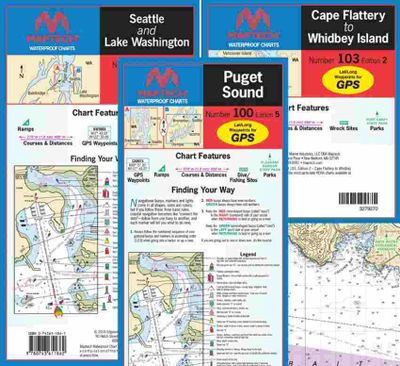 Puget Sound Waterproof Nautical Charts by Maptech
SKU: MTCX

The Waterproof Charts by Maptech are printed on high quality tear-resistant paper.

Major navigational aids are identified with their GPS waypoints.

Most of the charts also have one-minute latitude and longitudinal grids to make plotting with a GPS easier. They also show preplotted magnetic courses between major navigational aids with the distances shown in nautical miles.
Price each
Photo
Description
SKU
Units
Price
Qty
Puget Sound Waterproof Chart
MTCWPC100

Add to cart

Seattle & Lake Washington Waterproof Chart
MTCWPC101

Add to cart

Oak Bay Commencement Bay Waterproof Chart
MTCWPC102

Add to cart

Cape Flattery Whidbey Island Waterproof Chart
MTCWPC103

Add to cart

San Juan Islands Waterproof Chart
MTCWPC104

Add to cart

San Juan Channel Waterproof Chart
MTCWPC105

Add to cart

Bellingham to Skagit Bay Waterproof Chart
MTCWPC107

Add to cart

You Might Also Like:

Photo
Description
SKU
Units
Price
Qty

Puget Sound Chartbook by Maptech




12" x 17"

MTCWPCPS

Add to cart

Cruising Guide Puget Sound & San Juan Islands - Migael Scherer




Cruising Guide Puget Sound & San Juan Islands - Migael Scherer

-0071420398

Out of stock

San Juan Islands Nautical Charts by NOAA




NOS18400-Strait of Juan de Fuca, Strait of Georgia|1:200,000

NOS18400

Add to cart

San Juan Islands Nautical Charts by NOAA




NOS18421-Strait of Juan de Fuca to Strait Georgia|1:80,000

NOS18421

Add to cart

San Juan Islands Nautical Charts by NOAA




NOS18424-Bellingham Bay/Bellingham Harbor|1:40,000

NOS18424

Add to cart

San Juan Islands Nautical Charts by NOAA




NOS18427-Anacortes to Skagit Bay|1:25,000

NOS18427

Add to cart

San Juan Islands Nautical Charts by NOAA




NOS18429-Rosario Strait Southern Part|1:25,000

NOS18429

Add to cart

San Juan Islands Nautical Charts by NOAA




NOS18430-Rosario Strait Northern Part|1:25,000

NOS18430

Add to cart

San Juan Islands Nautical Charts by NOAA




NOS18431-Rosario Strait to Cherry Pt|1:25,000

NOS18431

Add to cart

San Juan Islands Nautical Charts by NOAA




NOS18432-Boundary Pass|1:25,000

NOS18432

Add to cart

San Juan Islands Nautical Charts by NOAA




NOS18433-Haro Strait Mid Bank to Stuart Island|1:25,000

NOS18433

Add to cart

San Juan Islands Nautical Charts by NOAA




NOS18434-San Juan Channel|1:25,000

NOS18434

Add to cart

Puget Sound Nautical Charts by NOAA




18428-Oak & Crescent Harbors|1:10,000

NOS18428a

Add to cart

Puget Sound Nautical Charts by NOAA




18440-Puget Sound|1:150,000

NOS18440a

Add to cart

Puget Sound Nautical Charts by NOAA




18441-Puget Sound-Northern|1:80,000

NOS18441a

Add to cart

Puget Sound Nautical Charts by NOAA




18443-Approaches to Everett|1:40,000

NOS18443a

Add to cart

Puget Sound Nautical Charts by NOAA




18444-Everett Harbor|1:10,000

NOS18444a

Add to cart

Puget Sound Nautical Charts by NOAA




18446-Puget Sound-Apple Cove to Keyport|1:25,000

NOS18446a

Add to cart

Puget Sound Nautical Charts by NOAA




18447-Lake Washington & Ship Canal|1:10,000

NOS18447a

Add to cart

Puget Sound Nautical Charts by NOAA




18448-Puget Sound Southern Part|1:80,000

NOS18448a

Add to cart

Puget Sound Nautical Charts by NOAA




18449-Puget Sound-Seattle to Bremerton|1:25,000

NOS18449a

Add to cart

Puget Sound Nautical Charts by NOAA




18450-Seattle Harbor-Elliot Bay|1:10,000

NOS18450a

Add to cart

Puget Sound Nautical Charts by NOAA




18452-Sinclair Inlet|1:10,000

NOS18452a

Add to cart

Puget Sound Nautical Charts by NOAA




18453-Tacoma Harbor|1:15,000

NOS18453a

Add to cart

Puget Sound Nautical Charts by NOAA




18456-Olympia Harbor & Budd Inlet|1:20,000

NOS18456a

Add to cart

Puget Sound Nautical Charts by NOAA




18457-Puget Sound-Hammersley Inlet to Shelton|1:10,000

NOS18457a

Add to cart

Puget Sound Nautical Charts by NOAA




18458-Hood Canal South Point to Quatsap Point|1:25,000

NOS18458a

Add to cart

Puget Sound Nautical Charts by NOAA




18464-Port Townsend|1:20,000

NOS18464a

Add to cart

Puget Sound Nautical Charts by NOAA




18465-Strait of Juan de Fuca, Eastern Part|1:80,000

NOS18465a

Add to cart

Puget Sound Nautical Charts by NOAA




18468-Port Angeles|1:10,000

NOS18468a

Add to cart

Puget Sound Nautical Charts by NOAA




18471-Approaches to Admiralty Inlet|1:40,000

NOS18471a

Add to cart

Puget Sound Nautical Charts by NOAA




18473-Puget Sound-Oak Bay to Shilshole Bay|1:40,000

NOS18473a

Add to cart

Puget Sound Nautical Charts by NOAA




18474-Puget Sound-Shilshole to Commencement Bay|1:40,000

NOS18474a

Add to cart

Puget Sound Nautical Charts by NOAA




18476-Puget Sound-Hood Canal to Dabob Bay|1:40,000

NOS18476a

Add to cart

Puget Sound Nautical Charts by NOAA




18477-Puget Sound-Entrance to Hood Canal|1:25,000

NOS18477a

Add to cart

Puget Sound & San Juan Islands Chart by Sobay




30"x54"|Laminated

SOB0001L

Add to cart

Puget Sound & San Juan Islands Chart by Sobay




30"x54"|Paper

SOB1001

Add to cart