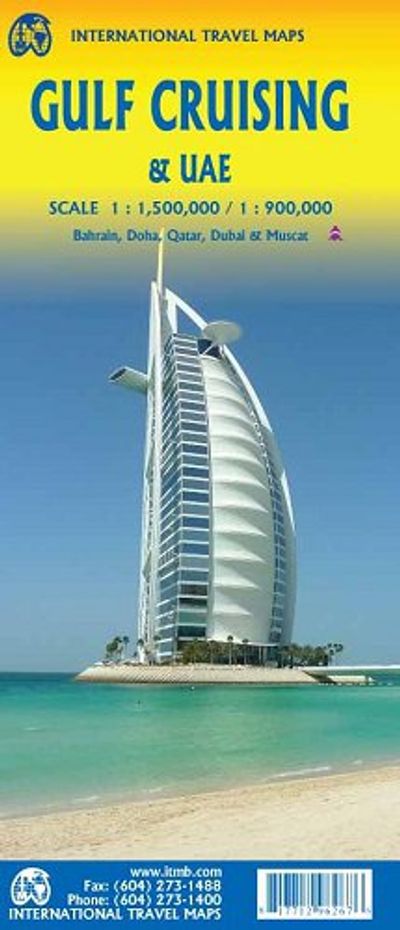 Gulf Cruising & UAE Travel Map l ITM
SKU: ITMGULFUAE

Published by ITM - this map covers the Persian Gulf or the Arabian Gulf... or the Iranian Gulf. Whichever name you prefer, it's the body of water between Iran and the Arabic Emirates of Bahrain, Qatar, Dubai and Oman.

It's an incredibly beautiful area, so it makes for a popular cruising locale. Side A of this Travel Map features the water area ranging from Kuwait / Iraq / Iran and south to Bahrain and Qatar. It also has insewt maps of Manama and Doha.

Side B shows all of the United Arab Emirates and most of Oman with insets of central Dubai and Muscat included.

Each Side has a listing of the top attractions for their respective area.

Price each
Photo
Description
SKU
Units
Price
Qty
27" x 39" / 1:1,500,000 & 1:900,000
ITMGULFUAE

Add to cart

You Might Also Like:

Photo
Description
SKU
Units
Price
Qty

Bahrain & Manama City Travel Map by ITM




39" x 27"|1:115,000 & 1:10,000

ITMBAHRAIN

Add to cart

Dubai, UAE & Northern Oman Travel Map l ITM




39" x 27"|1:15,000 & 1:950,000

ITMDUBAI

Add to cart

Oman Travel Map by Gizi




29" x 37"|1:1,250,000

MAPGIZOMAN

Add to cart

Iran Travel Map by Freytag & Berndt




52" x 39"|1:1,500,000

MAPFBIRN

Add to cart

Qatar & Bahrain Travel Map l ITM




27" x 39"|1:300,000 & 1:115,000

ITMQATAR

Add to cart