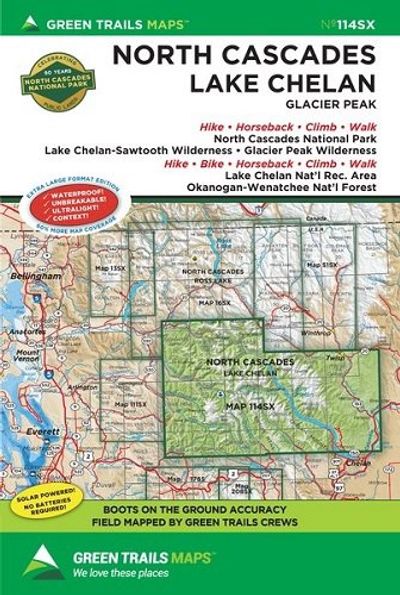 North Cascades Lake Chelan Hiking Map
SKU: GRE114SX

Green Trails Map 114SX is a recreational topographic that covers the North Cascades / Lake Chelan area!

Printed on ultralight polyart making it foldable, waterproof and tear resistant.

Areas covered on this map include: North Cascades National Park, Lake Chelan - Sawtooth Wilderness, Glacier Peak Wilderness, Lake Chelan National Recreation Area and the Okanogan-Wenatchee National Forest.

As always - Green Trails Maps include Trail Codes for Hikers only as well as mountain bikers, skiers and snowmobilers; Icons for parking and picnic areas, tent camping; Dot-to-dot trail distances, contour intervals; National / State Parks, National Forests, DNR land, Tribal Land and more.