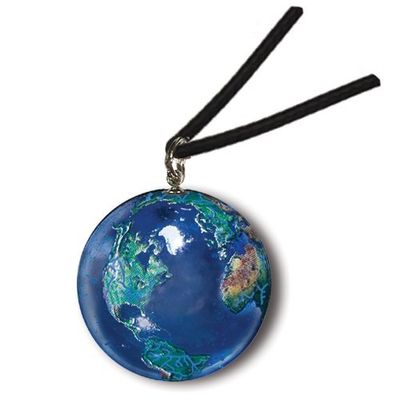 Earth Necklace (Chord)
SKU: SHA205CHORD
Imagine the beauty of the whole World around your neck. Show off your unique and worldly style with this exquisitely accurate Globe and discover islands and rivers, lakes, ice-caps, deserts, rainforests, and mountain ranges. The black waxed cotton cord has a zinc alloy extension chain & lobster claw that allows you to easily remove the Earth from the cord so all your friends can admire it up close.

You may need to start carrying around a magnifying glass in your pocket for all the people who will ask you to see the incredible detail of this natural Earth. It is important to note that the Earth can vary slightly in size due to the nature of production.
Approx. 1" (22mm) natural glass Earth
Geographically accurate full-color natural Earth continents
18" black waxed cotton cord with zinc alloy extension chain & lobster claw, no lead or nickel

The geographic art is expertly kiln fired at over 1000 degrees, creating an all-glass masterpiece that will last a lifetime!
Handmade in the USA