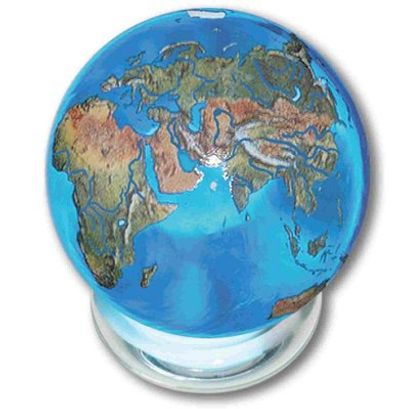 Earth Aqua Marble Globe
SKU: SHA131
Explore this exquisitely accurate Globe and discover islands and rivers, lakes, ice-caps, deserts, rainforests, and mountain ranges.

With the spinning glass base, this piece will sit perfectly as the centerpiece on a table, the adornment on a desktop, or the inspiration for your day on a nightstand.

1.4" (35mm) Globe made of aqua crystal glass
Geographically accurate, showing more than 50 rivers, beautiful full-color forests, ice caps, deserts, and shadow relief mountain ranges in amazing detail.

Spins smoothly on the polished clear glass base

Comes in a recycled natural kraft gift box
The geographic art is expertly kiln fired at over 1000 degrees, creating an all-glass masterpiece that will last a lifetime!

Handmade in the USA